7 DAYS (6 nights Friday - Thursday):
Recharge Your Body And Soul On My Burren Yoga Retreat in Ireland
Whether you are a seasoned yoga veteran, are entirely new to yoga or have discovered a new found love of yoga over lockdown, why not take your practice to the next level by attending my yoga retreat in Ireland? Not only will a retreat give you some quality time to focus on yoga and meditation, but it will also allow you to recharge your mind and take time out from the stresses and strains of everyday life. With lockdown measures easing after a stressful year, now is the perfect time to take some time for yourself.
What is a yoga retreat?
The idea of a retreat can seem a bit daunting to some, especially if you are relatively new to yoga, but a retreat is nothing to be concerned about. A retreat is simply a time to focus on yoga and meditation for a few days in a beautiful setting with like-minded people. A retreat also allows you to take a break from technology and focus your attention on yourself. With my Burren Yoga Retreat, you also get the added bonus of eating delicious food, exploring the local countryside and sleeping in exceptionally comfy beds!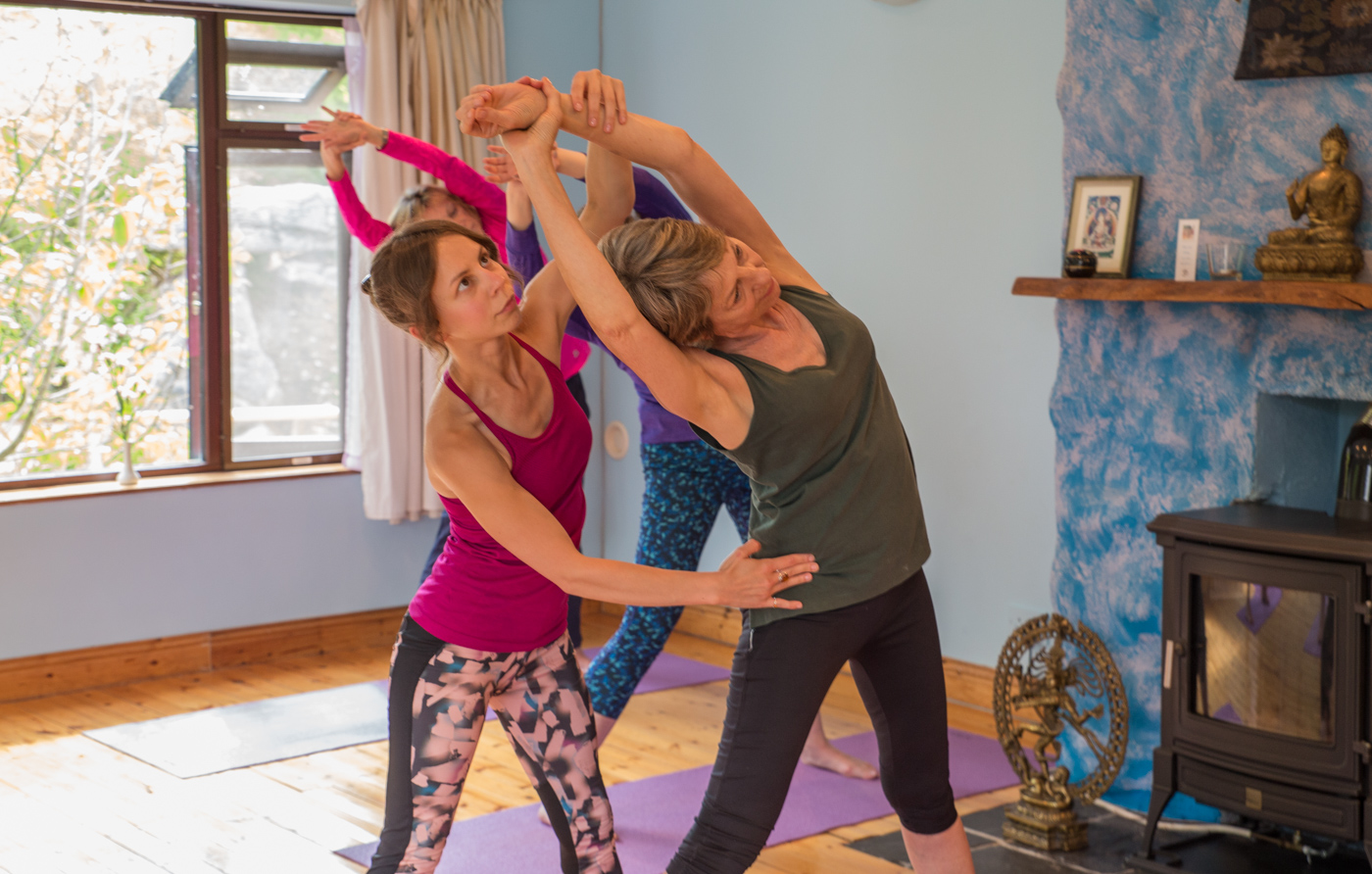 What type of yoga will we be doing?
The type of yoga that we will be focusing on in the retreat is Hatha yoga. Hatha yoga has been practised for hundreds of years and focuses on the connection between breath, body and mind. It is not fast-paced, so it is suitable for all experience levels. I will combine Hatha yoga with Vinyasa, a series of flowing movement sequences combined with rhythmic breathing.
Hatha yoga is proven to be beneficial in treating a wide range of health complaints. These include arthritis, neck and back pain, multiple sclerosis and mental health conditions such as anxiety and depression.
Besides yoga, I will also be guiding you through breathing practices and breath awareness and leading daily meditation and guided relaxation classes.
What does each day look like?
Each morning I will lead a guided meditation class. In this class, we will focus on finding a comfortable sitting meditation posture and how to use the props to help you. I will check everyone's alignment so you can rest assured you are sitting correctly. The meditation will be a focused breath meditation which I will lead you through.
A yoga class follows meditation. Everyone will be challenged at an appropriate level in these classes, so whether you are a total beginner or a yoga instructor, I can adapt the poses to suit you. Each class will start with breath work which we will then incorporate into the rest of the class. The postures vary from soft and gentle to more challenging, but I will provide alternative postures or variations on postures for those that require them.
I will also switch between practising the postures with you and moving around the class to make adjustments as necessary. Some poses focus on lengthening and toning your muscles, whereas others concentrate more on building strength and balance. I aim to give you the confidence to practice yoga safely on your own after the retreat is over.
Following the morning meditation and yoga classes, you will be treated to a well-deserved hearty breakfast provided by our in-house chef. Gearoid previously worked at the Hare Krishna restaurant in NYC, so there is no-one better to give you wholesome, flavourful vegetarian food.
After breakfast, we then head out on a guided outing lead by Dave, the centre's owner. This outing will allow you to explore the exquisite Burren Hills and surrounding areas. Dave knows the local area like the back of his hand and is an experienced guide, so you are in capable hands! Connecting with nature in this way is an essential aspect of any yoga retreat. This daily outing includes a lunch stop at one of the excellent local cafes or restaurants. Dave knows all the best places, so you will not be disappointed.
After the outing, you will take part in another class, and every second afternoon I will teach an extra restorative yoga class that includes lovely, relaxing tension relieving postures.

The day finishes with a gorgeous vegetarian meal prepared by Gearoid. Then you will be ready for some deep, restorative sleep!
Although some people worry about coming on a yoga retreat by themselves, most people who attend my retreats attend on their own, so there is no need to worry. This retreat will allow you to connect with like-minded people in beautiful, calm surroundings.
Although I know how much you will get from my yoga retreat, you don't have to take my word for it. Here are just a few comments from people who have recently undertaken one of my retreats.
"Overall, a great experience and introduction to yoga and meditation which the location lends itself to. It's geared to all levels of experience and so relaxed that there is no issue with asking questions about either the yoga or meditation."
"I spent an unforgettable week and came home feeling refreshed and invigorated. It was our first visit and hopefully not our last. Besides yoga and meditation, we enjoyed wonderful hikes organised and led by Dave. From a Covid perspective, all boxes were ticked, and we felt very safe and comfortable."
"Our yoga teacher Karolina was just amazing. I went from being nervous to totally converted. We had great fun with our group, who were wonderful company. I would highly recommend this retreat. It was such a stress release in a spotless house surrounded by friendly staff, excellent food and peaceful surroundings."
It doesn't matter what your motivation is for going on a yoga retreat. Whether you want to unwind and de-stress, improve your yoga practice or simply take some time to yourself away from the stress of your everyday life, you can rest assured that you will come back from my retreat rejuvenated.
I look forward to meeting you at our next retreat and joining you on your yoga journey.